This content is from another website - Click
here
to view on original site.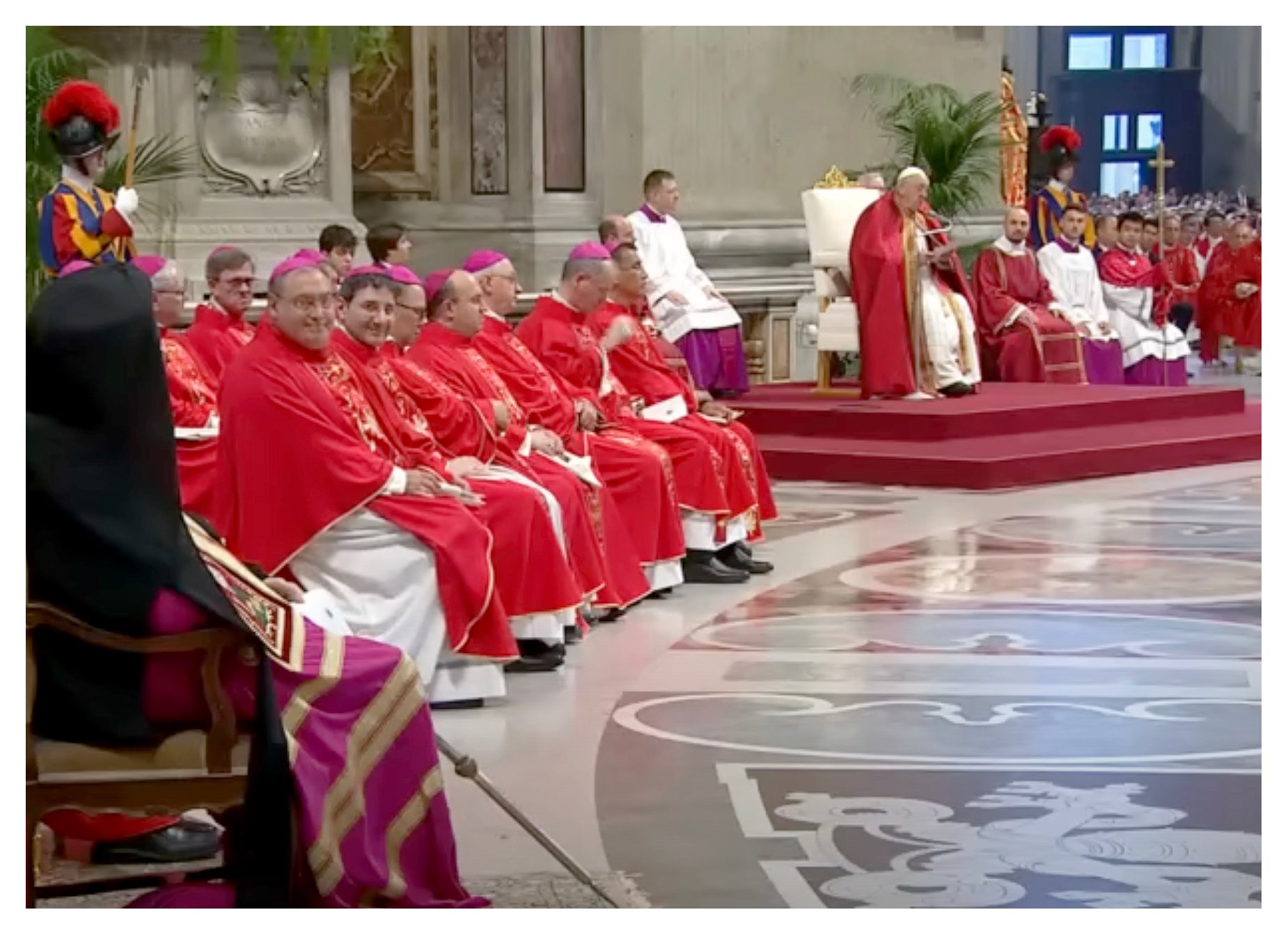 On June 29, 2023, the Holy Father welcomed 32 Metropolitan Archbishops to Rome, representing shepherds from around the world who have been appointed over the past year to care for the faithful. The Mass, held on the Feast of Sts. Peter & Paul included the presence of the Most Rev. Francis Leo, Archbishop of Toronto.
In his homily, the Holy Father addressed the new archbishops directly: "Today, a number of our brother Archbishops receive the Pallium, a sign of communion with the Church of Rome. To them I would say: Be apostles like Peter and Paul. Be disciples in following and apostles in preaching. Bring the beauty of the Gospel everywhere, together with all the People of God."
The pallium is a stole-like, vestment, worn on top of the chasuble of metropolitan archbishops when celebrating Mass. Traditionally, they are made from white wool from two lambs blessed each year by the Holy Father on the feast of St. Agnes (January 21). They are approximately two inches wide and are worn on the shoulders. The pallia were blessed at the beginning of the Mass by Pope Francis.
Joining Archbishop Leo in Rome was a small delegation from the Archdiocese of Toronto. In addition, His Grace was joined by relatives from Italy who made the trip from throughout the country to celebrate this special occasion. A reception was held following Mass at the Canadian Pontifical College where a number of Archdiocese of Toronto priests reside as they engage in studies to further their education and service to the Church. We were also blessed to have several small groups already in Rome join in the celebration, including representatives from the University of Toronto, St. Michael's College, and St. Paul's University among others.
At the reception, Archbishop Leo remarked: "The pallium is a powerful symbol of our Church. First, it symbolizes the unity and communion with the successor of Peter, Pope Francis himself. Second it symbolizes the mission a bishop has to be a good shepherd according to the heart of Christ…we are called to be good shepherds, like Jesus, for the flock."
A local event to formally bestow the pallium on Archbishop Leo and celebrate the Feast of St. Michael, will take place on September 29, 2023 at St. Michael's Cathedral Basilica.
We offer our prayers and best wishes to Archbishop Leo on this special day, ever mindful of his role as shepherd, teacher and spiritual father for the faithful of the Archdiocese of Toronto.
---
Additional Photos